The beautiful painting hanging near our Tabernacle is entitled "The Eucharist: The True Presence of Jesus Christ" by Artist Diane C. St. Germain, LWS.
In December 2021, a bookmark featuring this painting was given to our Parishioners at Christmas from Fr. Paul, Fr. Carlos, and the Friars.  Diane was so touched by working with us to create the bookmark that she gifted us a signed copy of her award-winning painting.
In May 2021, Diane's painting was a winner in the Archdiocese of New Orleans Year of the Eucharist Art Contest.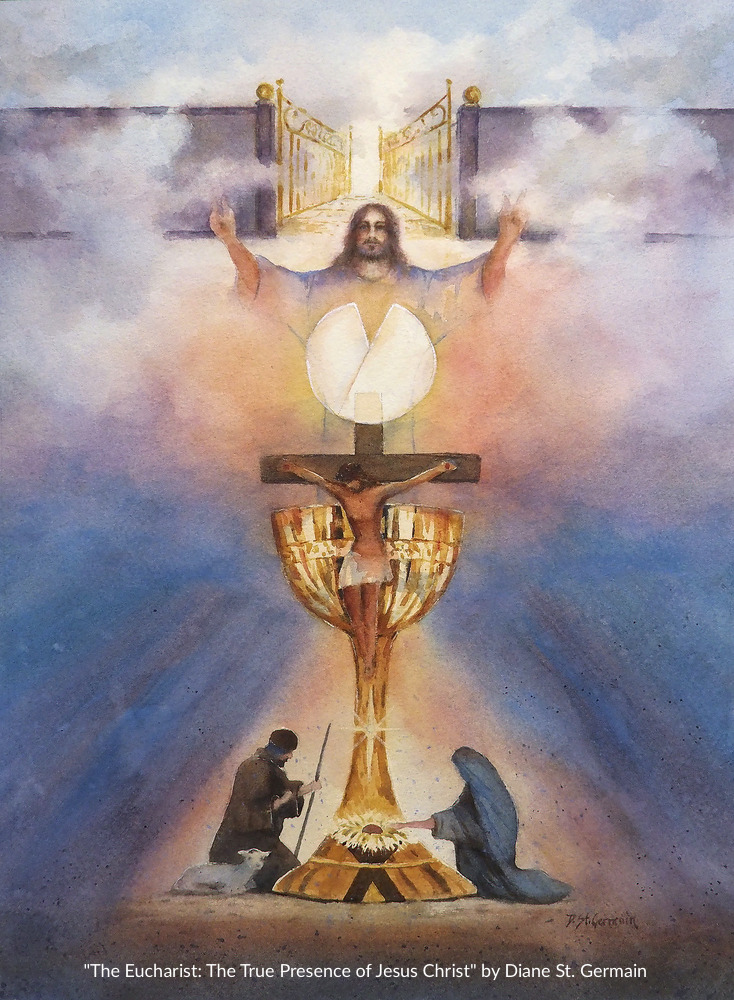 Bursting with symbolism
In her watercolor entitled "The Eucharist: The True Presence of Jesus Christ," artist Diane St. Germain decided to take viewers on a journey from the bottom to the top of her canvas, beginning with Christ's birth in a stable, to his crucifixion, to the resurrection. St. Germain superimposed the chronological scenes from Christ's life against a chalice and a broken, consecrated host, the latter placed atop Jesus' cross.
"It is broken, there, to represent Christ's body broken as his love offering for us to the Father for our hope of eternal life," St. Germain explained, adding her hope that the painting would remind Catholics that the Eucharist offered to us at every Mass is "the very same Jesus Christ who was born in a manger, crucified and rose from the dead."
"As our eyes move to the top of the painting, the image of the open gates to eternal life are placed to confirm our hope in the promise by Christ (of eternal life)," she said. (clarionherald.org, May 19, 2021)
When you see the painting may it be a reminder that at every Mass we celebrate the Perpetuation of the
Incarnation Life, Death, and Resurrection of Emmanuel, God with us.
You can discover more about the Artist at www.dianestgermain.com