Join Our Lady of Guadalupe Community in celebrating Easter, a special time of grace and blessing because of Jesus, our Risen Lord who brings us hope, strength, and much faith through his Resurrection!
2022 Easter Schedule
EASTER SUNDAY – APRIL 17, 2022
6 AM Sunrise Mass on the Beach (on the sand, 11th street south of pier) (English)
Please bring a beach chair/blanket. And if you wish bring a small radio, Mass will be broadcasted on FM 100.9.
7 AM Mass (English)
8 AM Mass (Spanish)
10 AM Children's Mass (English) – Easter Egg Hunt following Mass at Friendship Park
12 noon Mass (English)
Divine Mercy Novena & Chaplet in the Church 3 PM (English)
6:30 PM Mass (English)
EVENTS
RESURRECTION DAY EASTER EGG HUNT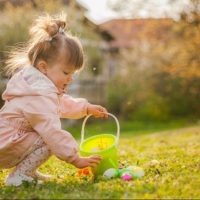 Kids are invited to the 10 AM Easter Mass on April 17 followed by an Easter Egg hunt at Friendship Park.
Please sign up to donate eggs and other goodies for this event: https://ourladyofguadalupehb.flocknote.com/signup/85082